Mortgage rates were relatively unchanged this week, but don't let the calm before the storm fool you. When the Federal Reserve wraps up its policy meeting Thursday, the markets will be anything but quiet.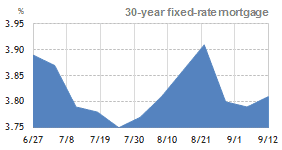 30 year fixed rate mortgage – 3 month trend
With or without an announcement for additional monetary stimulus, the Fed will indirectly affect mortgage rates this week. For borrowers who don't like to live on the edge, this may be a good time to lock a rate.
The benchmark 30-year fixed-rate mortgage rose to 3.81 percent from 3.79 percent, according to the Bankrate.com national survey of large lenders. The mortgages in this week's survey had an average total of 0.39 discount and origination points. One year ago, the mortgage index stood at 4.32 percent; four weeks ago, it was 3.86 percent.