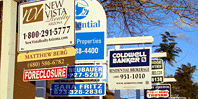 Foreclosures picked up in January
Foreclosures picked up in January, yet another sign that
the nation's huge glut of delinquent homes may soon
start making their way onto the market.
The number of homes hit with a notice of default, auction sale, bank repossession or some other foreclosure filing in January rose 3% since December, but it was still significantly lower than it was a year ago, according to RealtyTrac.
One in every 624 U.S. households, nearly 211,000 in total, got hit with some sort of foreclosure filing last month. That was down 19% since January 2011, the 16th month of consecutive declines.
While the declines seem like good news for the housing market, where the large number of foreclosed homes have depressed home prices, much of it was due to processing delays caused by fall-out from the robo-signing scandal that broke in late 2010.
Last year, banks spent more time making sure paperwork was legal and proper, creating a backlog in the foreclosure pipeline.