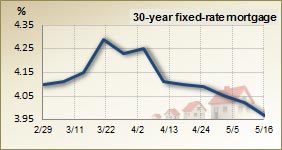 Mortgage rates dipped again, for the sixth week in a row, pushing the rate on the most common type of mortgage below 4 percent for the first time in the history of Bankrate's survey.
30 year fixed rate mortgage – 3 month trend
The benchmark 30-year fixed-rate mortgage fell to 3.97 percent, compared to 4.02 percent the previous week, according to the Bankrate.com national survey of large lenders. The mortgages in this week's survey had an average total of 0.44 discount and origination points. One year ago, the mortgage index was 4.77 percent; four weeks ago, it was 4.1 percent.
The first time Bankrate did the survey, Sept. 25, 1985, the 30-year fixed rate was 12.31 percent. That's the highest it has been.
The benchmark 15-year fixed-rate mortgage stayed at 3.2 percent, and the benchmark 5/1 adjustable-rate mortgage rose to 3 percent from 2.99 percent.
That's the lowest the 15-year rate has reached since Bankrate started the weekly survey.