Add square footage -- free!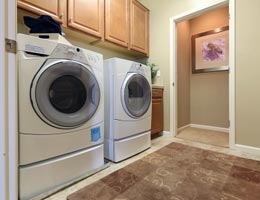 Add square footage - free!
Ditch junk and clutter to make your house look more attractive and spacious.
"This is now a showcase," says Patricia Szot, immediate past president of the Dallas-based MetroTex Association of Realtors. "You are no longer living in it; you are showing it."
A couple of pro tips:
Laundry room: Make it neat and orderly, Szot says. Your goal is to make it look like the room is plenty big enough for the job.
Pantry: It's for food only, Ramsey says. Using the pantry for general storage screams, "Not enough cupboard space."
Garage: If it's a two-car garage, make room for two cars, Szot says. For a lot of men, if the garage "looks small because of the clutter, there's an issue."
"And while you're decluttering, you're depersonalizing," Wiren says. "You really need the buyer to be able to picture your home as their home." A picture of your kids on the nightstand is "not a big deal," he says. But you don't want the family portrait gallery lining the hallway.