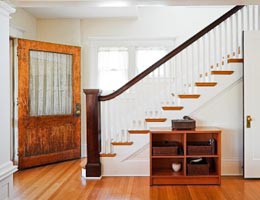 See with 'buyer's eyes'
See with 'buyer's eyes'
View the house from the buyer's perspective. Pull up and stop right in front of it, just like a buyer's going to do. Then let yourself in the front door, like a buyer's going to do.
How does your home compare to others on the street? Is it inviting? Does it make you want to see more?
Walk through the home with the eyes of a buyer. If you're buying another house, think about what you want to see in your new home.
Pay special attention to the entryway. You want it to be open as much as possible. Look at the furnishings you have in the area, and err on the side of less-is-more. When in doubt, get it out. You want it open and bright with neutral paint.